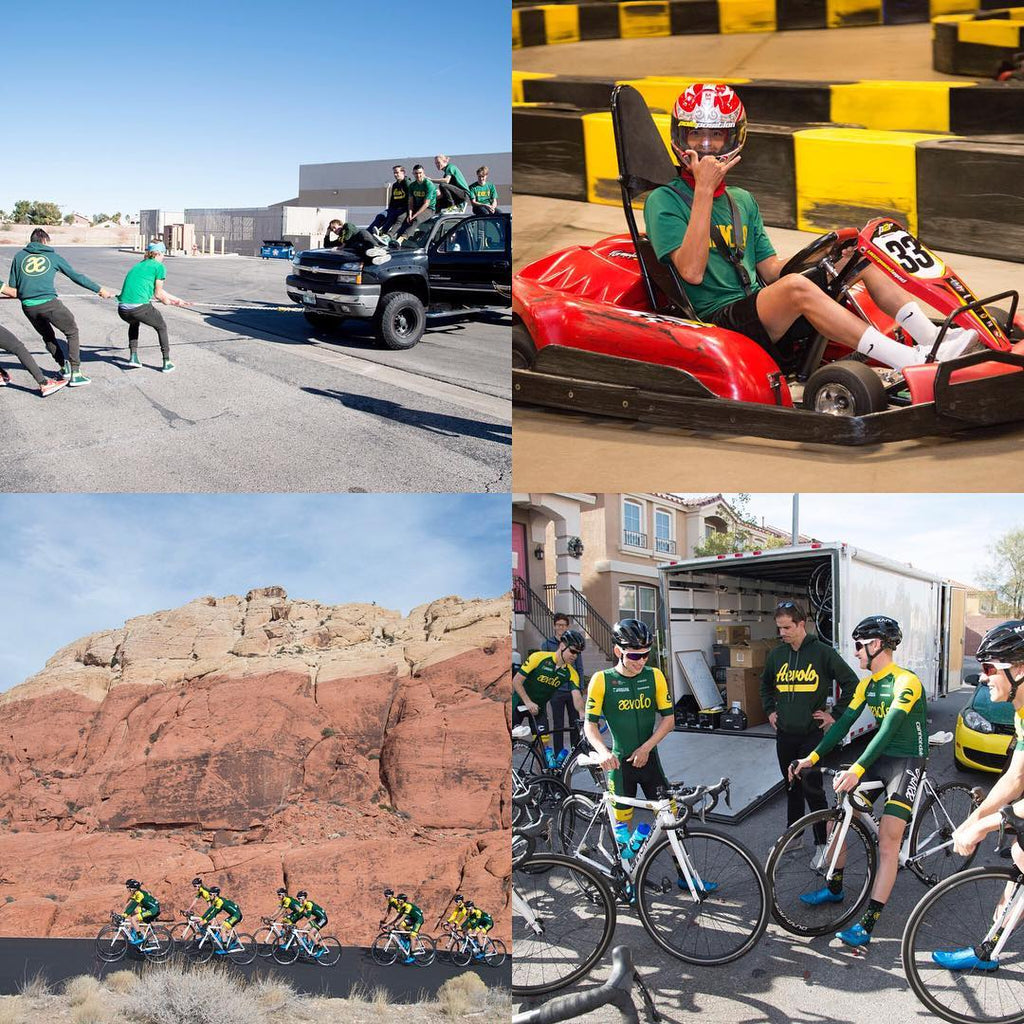 Dispatches - Vince Gee's Preseason
We've got another update from Vince Gee of Aevolo as he puts the final preparations on the team's equipment for the upcoming season. In this note, he tells us about the team's two training camps leading into the upcoming season and what he looks for in a good mechanic.
Our Las Vegas Camp in January was a very low key event. Three days with low volume on the bike and high volume in the fun department. Besides the shorter than average rides, there was Go Karting, Zombie Apocalypse, and a brief boot camp style workout. I was super sick well before camp started (starting around Christmas), all during the camp, and well after that camp. But with this job, there are very few sick days one can really take. So, I had to slog it out for not only camp but the few days of bike building, trailer packing and driving to and from camp. I don't think I got back to normal health until early February. That wicked bug that many had, got me down for well over 5 weeks.
While our second and more traditional camp started on Saturday, March 3rd, "camp" for me started a full 8 days before that. Flying out to Colorado Springs, CO to prep equipment for camp as well as drive the van and equipment trailer to Oxnard. It's sometimes strange for me to think that one of the main things I am happy about is just being healthy and not sick with the Flu and thus ready and able to do the best job I can.
I feel pretty blessed to have my nephew Bobby Gee here at our Oxnard camp as my second mechanic. His primary job here is to help me build race bikes. Home bikes were built and distributed at the Las Vegas camp. These race bikes will stay with me as I drive from race to race with the team trailer. I always enjoy it when people get into cycling either for sports (competition) or just for fun. While Bobby rode bikes more and more it was the other part of cycling that got his interest: fixing and repairing bicycles. He even worked at the same shop I worked at after he graduated High School. His desire to be a mechanic no doubt got me excited, but to have him work at the shop I used to work at was quite cool for me. It really made me want to share my experiences with him. And of course, it gives me a chance to hang out with family. Especially true now that I live on the East Coast 3,000 miles from most of my family. And like many, my family is very important to me.
For me, this job is about having a good attitude and working hard, being willing to work hard, and willing to put long hours in and doing the best job possible with each task that is required. I always say it's easier to get the "overachievers" to do less than to get the opposite group of people to work harder. On the 4th day here at camp, I told Bobby we would go over to the main house (two streets over) at 7:45 AM to start work. When I woke and got ready to go I realized Bobby had been gone AND the trailer keys were also gone. I walked over to the main house at the appointed 7:45 only to see Bobby with the trailer wide open already working on the day's tasks. For me, that is one sign of a good mechanic.